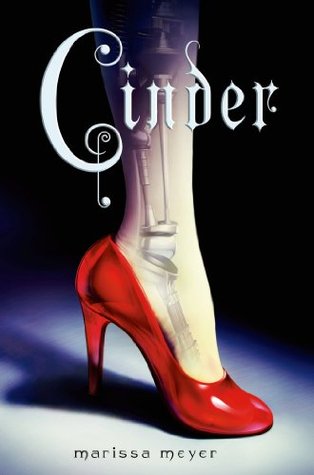 Recommended for:
  readers who enjoy robot-like characters and "aliens", and fairytale retellings

Read from October 07 to December 26, 2014
3 or 2.5 stars…
It took me a very long time to finish this book. I don't think I'll be continuing the series.
I liked the idea of a fairytale retelling featuring Cinderella as a cyborg, but I didn't really know what I was getting myself into. I picked up this book because of the numerous five star ratings it received from my GoodReads friends. To be honest, this book was quite boring to me. I didn't really care about Cinder's story. There were too many storylines occurring at the same time: the plague, Cinder's struggle with her cyborg self,  Kai becoming emperor, Queen Levana and Luna, and the missing Princess Selene. Having so many stories to follow made it difficult to really get into this novel, not to mention the fact that it took about at least 200 pages for me to actually be interested.
I think Marissa Meyer's idea and world were interesting but I think she could have shortened this novel, as I found myself very bored for more than half of it due to irrelevant events.
Cinder was a cool idea for a protagonist, being a cyborg and all, and I think it was fun to read about her quirks and robot-like behavior. I didn't think Kai was a very strong character, and I was surprised to see Adri and the stepsisters barely in the novel, considering this is a Cinderella retelling.
Overall, I appreciate the idea, and I think I might have enjoyed this book more had I been more into robots, "aliens", and fairytale retellings.
**Spoiler review available with the link above**
What did you think of Cinder?