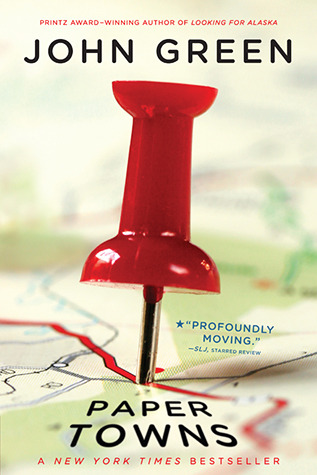 Recommended for:
  fans of John Green and solving mysteries

Read from December 02 to 14, 2014
4.5 stars? I think.
I actually ended up liking this more than I thought I would. Gosh, John Green just knows how to write a book. Really, though, this book made me think, a lot.
I liked the idea of this book being about a girl who's basically a mystery–
"Margo always loved mysteries. And in everything that came afterward, I could never stop thinking that maybe she loved mysteries so much that she became one." (8)
–because it creates a unique storyline.
I didn't know what to expect of this novel, besides the fact that it was written by John Green and it had great ratings. I didn't know it would make me think so much, and would have such interesting elements within. I am completely intrigued by Walt Whitman's Leaves of Grass, and I definitely want to read it myself. I love that about a book.
I really liked the characters of Paper Towns, especially Radar and Lacey, and of course Quentin. I also feel like this book related a little bit to Catcher in the Rye…(explained in spoiler review).
I definitely liked this novel, and wholeheartedly recommend it. I think I read it at the perfect age, too, since I'm the same age as Quentin. Additionally, I just really love mysteries, so that was something I definitely liked about this book.
*Spoiler review available above*
So, yes, Paper Towns deserves 4.5 stars, and is being added to my favorites shelf.
What did you think of Paper Towns?